PCB Design Services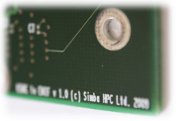 We offer a complete PCB design and PCB layout service using Altium Designer. We can also capture and edit schematics using Cadence OrCAD / Allegro.
Combining PCB and FPGA design facilitates a number of design optimisations through pin swapping, i.e. optimising the layout of the FPGA and the PCB together. This can lead to system performance improvements and / or a reduction in BoM cost through the use of fewer PCB layers or a smaller board. Spare FPGA resources (such as PLLs) can also be used to replace functionality usually implemented using dedicated devices, reducing PCB component count.
We work closely with a number of external companies for the manufacture and assembly of PCBs, meaning we can offer a complete design and assembly service to our customers. We can work with high speed PCB designs and most package types including BGAs and high density connectors.
Prototype PCB Assembly and Bring-up
We have a well kitted out lab that enables us to assemble and test small runs of PCBs. Basic PCB rework, including surface mount components, can also be carried out in house.